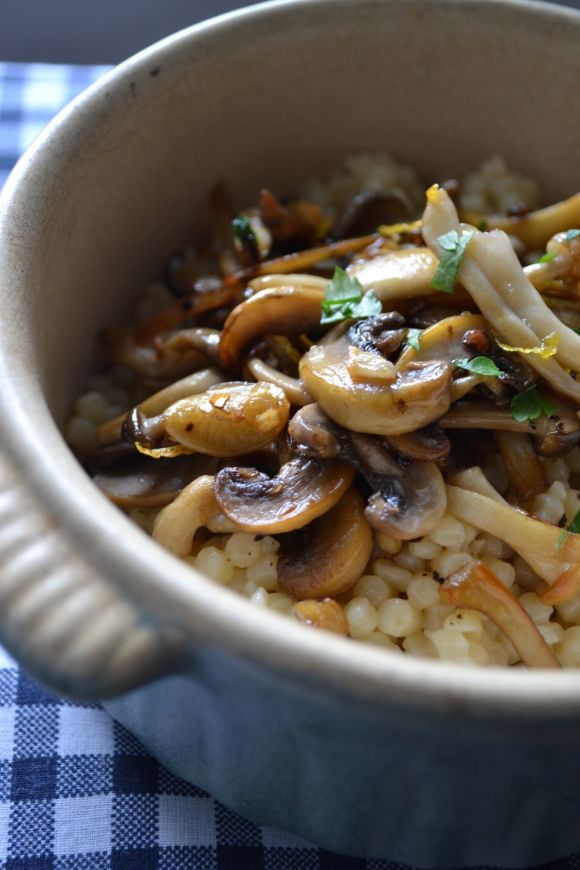 I found this recipe on a really cool blog,
The Gouda Life
. Initially I found it by looking for Giant Couscous recipes on Pinterest. You might recall that I made another recipe with this gran back in September, the Lemon couscous. There aren't many recipes with this ingredient and this one with the lovely mushrooms and tangy lemon is a lovely combination that works really well for both a main meal as for a side dish.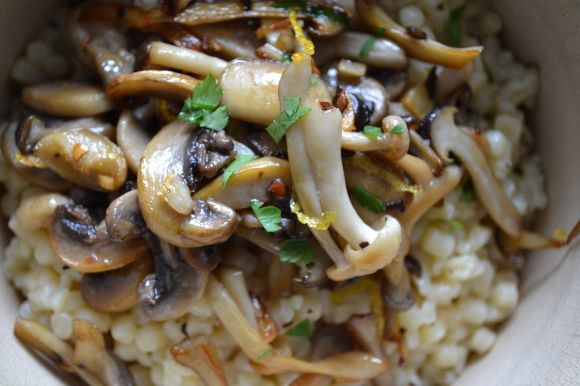 Ingredients
(for 2 as a main course, for 4 as a side dish)
1 1/2 cups of Giant/Israeli Couscous
2 cups water
4-5 leaves chopped parsley
1 tbsp lemon juice
Fresh ground pepper and salt
Olive oil
500 gr of wild mushrooms (I used a selection, both wild and not)
3 cloves garlic, roughly chopped
1/2 tsp red chilly flakes
1 tbspo lemon zest
3 tbsp parsley, chopped
1 tbsp lemon juice
sea salt and ground pepper
Olive Oil
Instructions
Heat a tbsp of olive oil in a pan over medium heat and lightly toast your couscous for 1 minute. Add your water and bring it to a boil. Lower to a simmer and let it cook for 8 minutes covered, until the liquid has evaporated.
Add the lemon juice, parsley and pepper. Salt to taste.
While the couscous is cooking prepare your mushrooms. Heat a skillet over medium heat with 1 tbsp of olive oil. Place your mushrooms, make sure they are not overcrowded do it in two rounds, and brown for 3-4 minutes on each side, until brown and crispy. Place them in a dish with a paper towel to absorb the oil. Repeat until all your mushrooms are ready.
Wipe your pan and add 1 tbsp of olive oil to heat. Add the garlic and chilly flakes and stir for 1 minute, add the mushrooms, parsley, lemon zest and a pinch of salt and toss until all is well combined. Personally I cooked it for 5-7 minutes. Remove from heat and add the lemon juice (damn I forgot it!).
Serve the couscous on a plate and add the mushrooms on top, sprinkle with more slat if needed and freshly ground pepper. I'm sure it would be lovely with a glass of red wine, if I drank it.