I think I have found my comfort food. I'm definitely a sweet person, I have been asked if in a restaurant I had to chose between the entrants and the deserts which one would I go for, for me that's a super easy, always deserts! And while these apple muffins are not strictly a desert they make for a yummy mid day treat (yes not diet friendly!) or a full of flavour breakfast option then this is it for you! They look very much like the
nutella cinnamon muffin
ones I made some time ago but I think I prefer these ones, I love the apple/cinnamon combo!
The original recipe
called for a sugar/cinnamon coating but I omitted it and they were as good!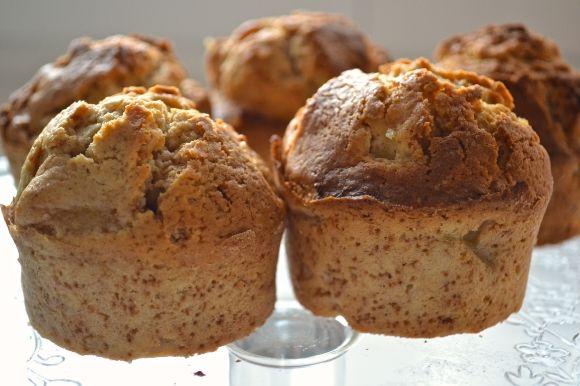 Ingredients
(makes 6 or 5 in a large muffin pan)
1 cup all purpose flour (+1 tbsp for coating the apples)
1 apple cut in pieces (not too big not small, you want to taste them)
3/4 tsp baking powder
1/4 tsp salt
1 tsp ground cinnamon
1/2 stick unsalted butter at room temperature
1/2 cup granulates sugar
1 large egg
1 tsp vanilla extract
1/4 cup milk
Instructions
Preheat oven to 375º F (190º C). Prepare your muffin tin, I coated it with butter and flour disregarding any excess.
In a bowl sift flour, baking powder, salt and cinnamon. Mix well and set aside.
In a bowl toss together the apples with the flour (and 1 tsp of cinnamon if you want, I forgot!) and coat them well, set aside.
Cream butter and sugar until soft for about 3 minutes. Add egg and beat well until well incorporated and mixed, add vanilla and mix.
Gently fold the flour mixture, alternating it with the mil. Stir until combined.
Fill your muffin tins until 3/4 full. Bake for about 30 minutes or until a toothpick inserted in the middle comes out clean.
Let them cool for a bit before you take them out from the tin.
If you want to coat them, definitely a must but they are as good without check the original recipe
here
.