Rosie, AKA
The Londoner
, made some croissants the other day and I, of course, got jealous. These are a bit of a different version
(but AS DEAD EASY!)
as in Barcelona I didn't manage to find the specific croissant ready pastry that Rosie used so I did some research and found an alternative way to wipe up the perfect quick and easy "home made croissants". I
used this video by Laura Vitale
and was really useful especially when it came to deciding what pastry to use. I changed the recipe a bit so here goes.
Ingredients
(makes 4)
Half packet of puff pastry
Nutella
Chopped Hazelnuts (or any other nut you like)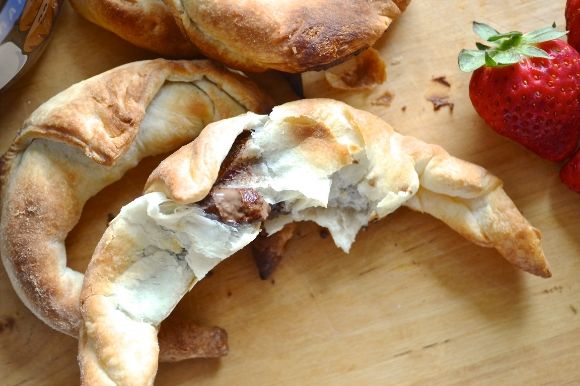 Lay the puff pastry on a lightly floured pastry and oven with a pin roll slightly, you just need an extra inch or so on each side, not more. Cut in half and save the 1 half for your next batch (or make it and have 8 croissants!). Cut your other half in half (again! so you have 2 squares!) and cut each square on a diagonal so you have 4 triangles. Stretch out each triangle so the point is centred.
Place about 1 Tbsp of Nutella on the biggest end and sprinkle with your nuts (or not if you prefer it nut free). Roll and create a little croissant.
Place each croissant on a parchment paper line baking tray and bake for about 10 minutes or until gold.
Eat warm, Rosie recommends eating them with berries, in all honesty I just devoured them no berries, no nothing, they are THAT GOOD!