Giveaway now closed, thank you all for taking part!
***
Today I'm very excited to be taking part in the 3rd Jess LC Soc Chic All Week Giveaway. I'm a big fan of Jess', as a person, as a business woman and as an artist and have always admired her work. All the Soc Chic necklaces have been designed to each benefit a charity cause so on top of having the chance to win a beautiful necklace, it's also helping a good cause!
To enter leave a comment in this post until Friday the 8th of August, I will pick a random winner on Friday evening. And check out all the other blogs taking part!
[Sunday Outfit will be back tomorrow]
Up for grabs is The Bright Side Necklace. I am a firm believer of the message and idea behind it:
"The chrysanthemum, a Japanese symbol for the sun, serves as a reminder that after every dark night comes a brighter day"

and thought it looked incredibly beautiful!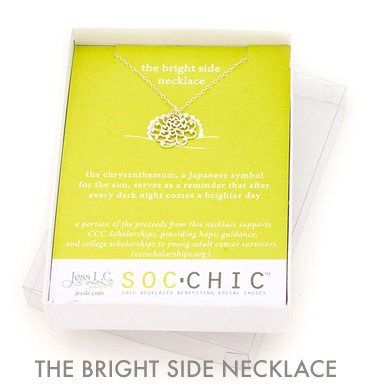 The SOC cause is the CCC Scholarships, a nonprofit organisation dedicated to improving the quality of life for young adults cancer survivors by increasing opportunity for college access. You can read more about it here.
Make sure you check out all the other blogs and fantastic ladies taking part in the Soc Chic all Week Giveaway, by visiting each of them you can enter to win each of the precious other necklaces too. That's not bad at all! You can click on each banner below and hop around for your chance to win any of these.