I was very excited when Megan from Honey We're Home agreed to take part in these Kitchen series. Her home is the epitome of beauty and obviously so is her kitchen. Simple, elegant, perfect place to cook an enjoy.

Eat in or out: About 50/50. Eating out has gotten a little more difficult lately with our 16 month old son who doesn't like to sit still or be quiet for long!
Take away or restaurant: I like to eat at the restaurant- clean up is so much easier! But I love to order in pizza!
I cook for ... our family about 3 times a week. Leftovers or eat out the rest of the week.
Healthy food: grilled chicken salad with thai peanut dressing
Indulgence: Ice cream! Haagen Dasz chocolate chocolate chip.
Date Dinner: Our go-to "date" restaurant is Morton's. I love the tuna tartar, petite filet, and mushrooms. With wine of course!
Quick fix: caprese salad, brie cheese and crackers, hummus and pita chips
Favorite gadget(s): Anthropologie timer.
My cooking bible: All Barefoot Contessa cookbooks.
My must ingredients: Bangcock Padang Thai Peanut Sauce
Spicy or Mild: Medium! :)
My kitchen is: light and bright and the center of our home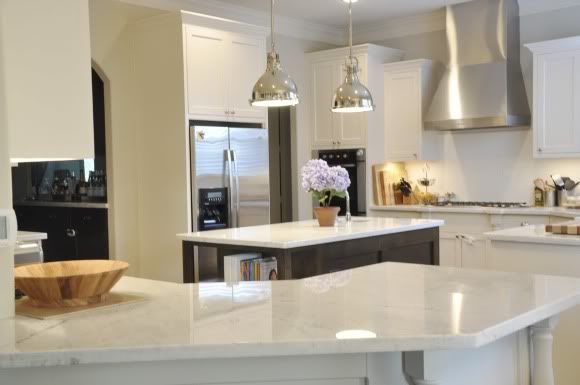 -Grill chicken strips in a grill pan
-combine with pre-washed romaine lettuce
-Add Bangcock Padang Thai Peanut Sauce with a little peanut butter and lime juice