The very lovely Alison shares her US kitchen and her secrets. Alison shares her love for interiors at My Little Happy Place via Brazil and Texas. If you haven't had a chance to "meet" her, well you should, she is really lovely
!
If you've met me through my blog, My Little Happy Place, you know my family and I are Americans living in Brazil. However, I've featured our kitchen in our home back home because we reworked it to reflect our taste, and, well, it's a very Happy Place!
Eat in or out:
In. We enjoy cooking, and taking the kids out is cuh-
razy
!
Take away or restaurant:
Restaurant - if it's Date Night!
I cook for...
My husband, and girls: Avery (4) and Isla (15 months) and Me (I'm pregnant with our third)
Healthy food:
"Real" Food. Fresh Ingredients. I read, "In Defense of Food," and realized just how much "non-food" we are surrounded by - scary. I try to follow Michael Pollan's take: If your Great-Grandmother would recognize it as something to eat, you're probably OK!
Indulgence:
Bready-sweets: Cupcakes, cinnamon rolls, etc.
Weekend Meal:
My husband usually puts something on the grill, and I'll make the sides. Roasted potatoes and a salad are classics for us.
Date Dinner:
Sushi - stuffing ourselves until we feel like a puffed fish!
Quick fix:
My go-to meal is pressure-cooked pork served over polenta. It's an easy and tasty meal that I can whip up when I'm not feeling creative in the kitchen.
My must ingredients:
Fresh garlic, fresh-ground salt and pepper.
Spicy or Mild:
I'm from Texas - Spicy!
Favorite gadget(s):
A good gas range and quality cookware. I found our professional range on Ebay for half the retail cost - snag! My French copper cookware is one of my treasures from a trip to Paris a few years ago. It's pricey, but the quality is superb, and I'll always have it.
In the kitchen, I couldn't live without:
All the natural light. The open-air feeling makes up for the small footprint.
My cooking bible:
The Joy of Cooking for classic techniques and recipes.
Foodgawker
for visual inspiration.
My kitchen is:
My favorite room in our home! It's open and full of light, and with the little peninsula, great for people to sit and chat while I'm cooking.
My Recipe:
Curri
ed Chicken Salad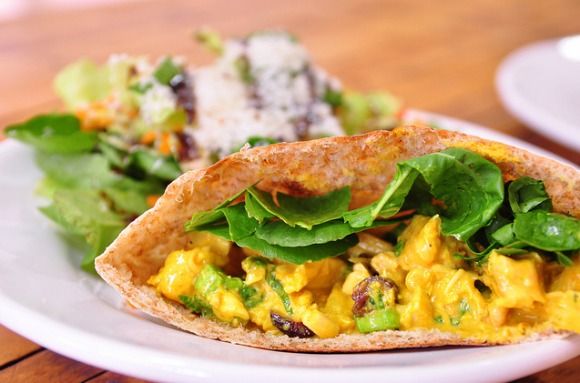 (Loosely interpreted from a friend's original recipe)
2 lbs Chicken - cooked and cut into chunks
1 small can chopped Water Chestnuts
1 c Craisins
2 c chopped Celery
1/2 c chopped Walnuts
1/2 Fresh Pineapple - cut into small chunks
1 c Mayo - or to taste
1 T Curry Powder
1 T Lemon Juice