The fantastic Maureen from The Inglenook Decor Musings is sharing a mouthwatering recipe. Look how cute she is! I first discovered Maureen through her ship The Inglenook Decor, and since then i have been a fan of her lovely style and genuine kindness. Make sure you get to know her, if you don't already that is :)

Hello everyone! I've been enjoying perusing at all the kitchens of the finest design bloggers & all the yummy goodness of the scrumptious recipes.
How about
Emma's kitchen
from the M
arion's house? And that
Tuscan Lemon Chicken
recipe from
Christine of Bijou and Boheme? I'm always excited when Helena asks me to participate in one of her fabulous series but I was a little panicky as my kitchen is not my dream kitchen. I want it to be brighter, refreshing, have white cabinets, more cottage-like. But alas, I think most of us dream of the dream kitchen. I also rarely cook and when I do, it's not the best...but I can mix up things together. Does that count? So, here you go...
Eat in or Out:

Out...most definitely!
Take Away or Restaurant:
Restaurant
I cook for:
my daughter & husband, if ever or whenever it happens :)
Healthy food:
tomatoes, egg whites, onion omellette
Indulgence:

Anything sweet that's moussey or have whip cream on top! I have a hopelessly sweet tooth!
Weekend meal:
Tex-Mex at a restaurant overlooking Lake Austin
Date dinner:

Bacon Shrimp & Grits with Pommes Frites + a French 75 at Bess Bistro
Quick fix:
A protein shake
Spicy:

Thai Green Curry, Ghost Pepper
My kitchen is:
totally needs to be used more!
Favourite gadget:
our Cutco knife! it cuts sooo good!
In the kitchen, I couldn't live without:
the milk frother, my morning cafe au lait just has to be perfect, thanks to my husband!
My must have ingredients:
garlic and jalapeno
Spicy or mild:

most definitely S.P.I.C.Y

.
Our tableware and glassware is mostly white & clear. I'm starting my own white hobnail collection that I hope Edie Ross would be proud of.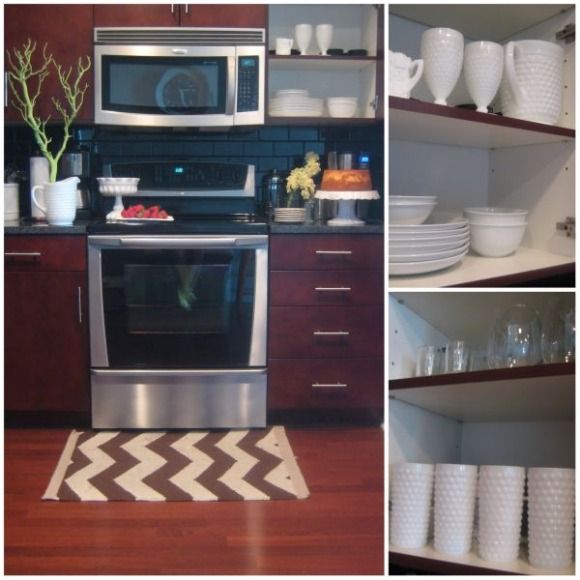 My Recipe: Ack, I may be the most undomesticated woman when it comes to the kitchen...I tried cooking before but it never did like me. Once in a while, I would attempt it.
So here it goes, it is the quintessential summer cake and I just love strawberries!
So today, I'd like to share a recipe for strawberry shortcake.
Here's the easy way:

Buy a pound cake or Angel Food cake + fresh strawberries + whip cream. Get it all together however you want it and Voila!
5 tablespoons unsalted butter, room temperature
3/4 cup plus 2 tbsp sugar
1 1/2 - 2 cups heavy cream
Whole strawberries, for garnish
1.

Preheat oven to 350 degrees.
2.

Cream butter,
3/4 cup
sugar and vanilla in the bowl of an electric mixer until light and fluffy. Add eggs one at a time, scraping down the sides of the bowl after each addition.
3.

Sift together cake flour, baking powder, and salt.
4.

Add dry ingredients to the batter, alternating with the buttermilk in 3 additions. Divide among the prepared pans.
1.

In a large chilled bowl, whip the cream with the remaining 2 tbsp of sugar until stiff.
2.

Assemble the cake with cake, strawberries, whipped cream and repeat. Finish with your best strawberries on top.
Enjoy the Summer! Enjoy the sweetness!